Huck Finn, chapters 18-21
Here's the trailer from back in the 1990s for the Huck Finn movie. I'll keep looking for more clips to share, but I can find only a handful:
And here's a scene from a few days ago, when Huck dresses up as a girl to find out the gossip surrounding him and Jim:
The Grangerfords and the Shepherdsons–respectable, handsome, wealthy families who are so set in their ways, so wrapped up in pride, that they can't live peaceably and have been feuding for 30 years! Family members are dying, but no matter–honor must be upheld!
Huck is reunited with Jim, who was able to find and fix up their raft, and they can get OUTTA THERE!
See again that we have "rules" and "civilization" on the shores–and the Grangerfords and Shepherdsons are the worst examples of "civility"–so Huck and Jim eagerly get back to true freedom on the river. Their children try to marry (shades of "Romeo and Juliet" here) but the family feud continues, claiming even young Buck. Who would want to live in a society where this is considered "normal"?
Out on the river they are "free and safe once more . . . You feel mighty free and easy and comfortable on a raft." (They even travel naked as much as they can. Talk about a little too free and easy.)
I think most of us would think life on a raft would be rather precarious, and obviously dangerous, but it's far better than civilization.
And then we meet the King and the Duke. (Did you hate Pap? Get ready to hate two more characters.)
The king is older, in his seventies, and the duke is around thirty years old. They are "confidence men," meaning they gain your confidence, then trick you and run off with all of your money: "con men." They're going to be hanging with our boys and using them to pull off all kinds of schemes and rip off as many people as possible.
And Huck and Jim aren't quite clear on all of this. Now the banks and shores has invaded their freedom on the river, and they're not going to be free because of these two goobers. They initially exchange stories as to what kind of cons they run, then lament to each other that they are actually far greater than they seem. The younger man, why he's a duke! From England! And to make him feel better about all that he's lost, Huck and Jim can wait on him hand and foot. Nice, so nice.
But wait! There's more! The old man is kind of jealous here, and he sobs about his unfairness. Why, he's the rightful King of France! The Dolphin! And now Huck and Jim have to be servants to him, too.
And so there we have two con-men who are definitely not royalty but are even conning each other.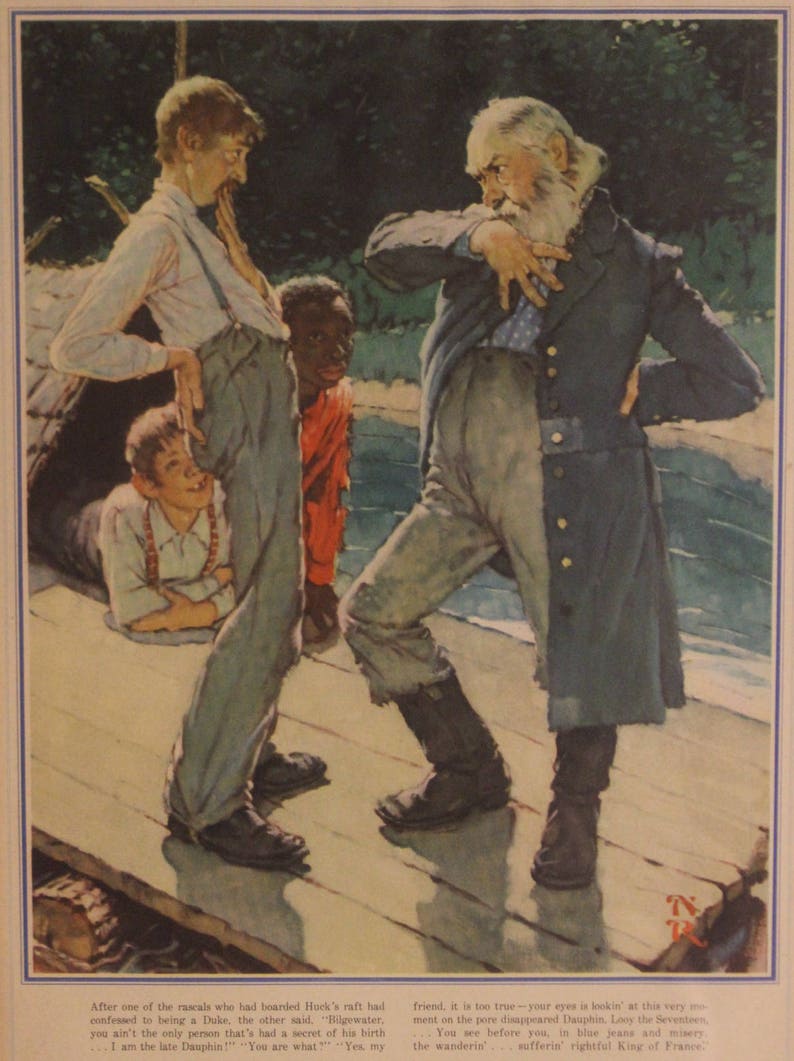 Huck and Jim's luck is going really bad now. They just don't fully realize it yet. But Huck does realize pretty quickly that they are "lowdown humbugs and frauds . . . I learnt that the best way to get along with his kind of people is to let them have their own way."
That's kind of sad, really.
Well, these two goobers take over the raft and their future.
And oh, our King is a Shakespearean actor! Oh, he butchers Will pretty awfully. He's quite the actor, though, pretending to be a pirate who's been saved by hearing a preacher (and making a good amount of money at it (the equivalent of $2,500). The Duke has a few plans, and also creates a fake sign for Jim, so they could claim that he's a slave they're returning down to New Orleans.
And then they do Hamlet. Oh, someone give me strength. You guys know this speech. Does is sound at all like you wrote about? (And he slips in some Macbeth in there.)
Then we get the disturbing incident with Boggs. Here's what Cliffnotes has to say:
The irony of the two frauds attempting to quote Shakespeare is surpassed only by the irony of their attempt to present it to the small Arkansas village. Huck's description of the barren town and its inhabitants reminds readers of the squalid and cruel nature of society. The men are not only cruel to defenseless animals, they are also vicious with one another as is revealed in the death of poor Boggs. Similar to Twain's use of the Mississippi, the murder of Boggs is based on a real event that Twain witnessed as a young man. The incident illustrates the dangers of pride and a mob mentality, and also symbolizes human's contempt for one another. The fact that Boggs' earlier actions are deemed harmless further illustrates that no one in Huck's world is immune from corruption and hatred.

The cruelty of the Boggs episode is easily recognized by Huck, as is the general squalor of the town. Huck's reaction is noteworthy, for it contrasts sharply with the "evils" of his companion, Jim. Among the string of characters that Huck encounters — from Pap to the Grangerfords to Sherburn — Jim stands above them despite society's condemnation.

https://www.cliffsnotes.com/literature/a/the-adventures-of-huckleberry-finn/summary-and-analysis/chapters-2123
Tomorrow's reading will show you what happens with Sherburn.
POETRY!
I promised you a poem, but I'm giving you two! Both from Robert Frost, America's foremost poet of the 20th Century, and both frequently misunderstood. For this assignment I want you to READ BOTH, then choose ONE to WRITE UP for me. Create good, solid paragraphs detailing what you find in your chosen poem. Follow SLAM–Structure, Language, Affect, Meaning–and share with me. I'll try to do YouTube videos of analyzing these, so you may wait to write up your poems until I've posted my analyses.
READING ASSIGNMENT: Huck Finn, chapters 22-27
READING QUESTIONS:
1. Why did the people return to the show?
2. What do you think is the point of the incident of the shooting of Boggs?
3. Why do you think we hear about Jim's daughter "'Lizabeth"?
4. Where did the king and duke get their plan about being the Wilks brothers?
5. How do the king and duke get the money?
6. Why does Huck steal the money from the mattress?
7. Why doesn't Huck's conscience bother him when he lies so much?
POETRY ANALYSIS–Robert Frost's two poems–you choose one. This write-up will be due THURSDAY, April 2. (And you may wait until I get my YouTube analyses up for you to supplement your own analysis.)